Proposed Fox River improvements would help St. Charles economy: study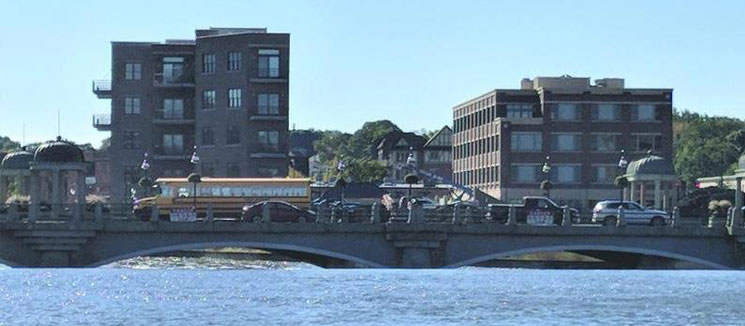 The St. Charles City Council has hired a consultant to determine if the construction of a river park and other improvements along the Fox River would prove to be financially beneficial.
Eric Schelkopf – eschelkopf@shawmedia.com
ST. CHARLES – Replacing the existing dam in downtown St. Charles with whitewater and recreational channels, installing a recreational zipline above the Fox River and doing other improvements along the Fox River could bring thousands of more people to the city every year and create many economic opportunities, according to a consultant studying the proposal.
Last October, aldermen approved a contract not to exceed $72,000 – plus a maximum $5,500 in out-of-pocket expenses – between HVS Convention, Sports and Entertainment Facilities Consulting and the city for an economic impact and cost benefit analysis of the Fox River Corridor Master Plan.
"Overall, there is a very enthusiastic reaction to this project," HVS managing director Thomas Hazinski said in addressing St. Charles plan commissioners on March 5. HVS has completed a draft report and the final report is set to be presented to the City Council's Planning and Development Committee on April 8."
Construction costs for the project, including contingencies and soft costs, are estimated between $20 to $22 million.
"We still need to do some work on cost benefit analysis," Hazinski told plan commissioners.
The proposed attractions would be along the Fox River in downtown St. Charles. The site runs along the east bank of the river, from the railroad trestle to the Main Street bridge.
The project would include:
Replacing the existing dam in downtown St. Charles with whitewater and recreational channels, separated by a man-made island that is accessible by pedestrian bridges.
A zip line connecting the east and west banks of the Fox River, which would run above the river and be operated and managed by a professional staff to ensure the safety of participants.
Improved trail connectivity through downtown St. Charles. A riverside path that runs under Main Street would connect the riverfront park to other parks in St. Charles.
A play area for children that offers a space to interact with natural play elements.
Adequate support spaces, including a large changing area for whitewater and recreational channel users, adequate shelters to protect users from adverse elements, an equipment rental outlet, picnic areas, viewing areas, and park pavilions.
The proposed improvements could boost the annual number of visitors to St. Charles to 261,880 by 2027, up from last year's 183,850.
"The whitewater feature in St. Charles will be most like the Chattahoochee RiverWalk in Columbus, Georgia," Hazinski said. "HVS projects that the whitewater elements will attract approximately 22,000 annual visits, 700 users per weekend during 30 weeks per year. Half of those users will be advanced enough to use the whitewater channel exclusively. We expect whitewater use will be high initially as there is a novelty effect with whitewater parks."
HVS also identified the new direct spending that would occur in the local economy because of the construction and operation of the Active River Project. It also estimated the fiscal impact caused by the new spending in St. Charles. This includes revenue from local sales, alcohol, lodging and gas taxes, as well as an estimate of increased property tax collections caused by potential redevelopment in downtown St. Charles.
The study showed the Fox River improvements would have an annual economic impact of $1.3 million and $982,000 annually in fiscal impact. In addition, HVS collected data on property values and tax collections over the past four years on 150 parcels within the study area. The city of St. Charles has identified 92 parcels as fully developed and 58 parcels that may have potential for redevelopment.
If redeveloped, underutilized parcels that are currently privately owned could increase in value by $10.5 million, according to the study. Certain parcels that are currently municipally owned could be converted to private uses and assigned a market value of $19.6 million.
In conjunction with Active River Project, the River Corridor Foundation of St. Charles is looking at ways to improve the area on the east side of the Fox River along Langum Park.
As part of the nonprofit organization's mission to enhance the riverfront and improve access to the Fox River, the River Corridor Foundation of St. Charles is proposing to undertake several projects in the Langum Park corridor. Those projects include the replacement of benches and waste receptacles to match those on the "Freedom Trail," additional wayfinding and informational signs, providing paved handicapped access to the river's edge where feasible and providing a safer way for bicyclists to cross Route 25.
"The other communities up and down the river and those closest to us are all watching to see what we do," River Corridor Foundation President John Rabchuk told plan commissioners. "This is by far our biggest natural asset that we have."